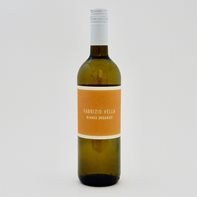 Fabrizio Vella Bianco Organico
Harvested by hand, with low yields from Sicilian vineyards located at altitude, the Catarratto grapes are picked slightly early to ensure bright fresh wines with clean fruit flavours.
There is no oak treatment and the resulting wine is full and fruity with a fresh minerality on the finish. This natural wine has a complex nose of citrus fruit, lemon zest and citrus blossoms along with hint of tropical fruits, herbs and sweet spices. Fresh, crisp and lovely minerality on the finish.
This wine can throw some sediment. This is part of the wine's character and the result of gentle filtration.
A natural wine
organic, Sicily, 12%