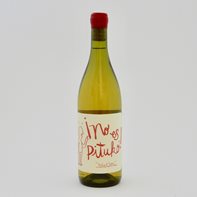 Echeverria Chardonnay Ino Es Pituko
'No es Pituko' is Chilean slang for 'it ain't fancy' reflecting the fact that this wine was vinified naturally, without any additions at any stage.
Pale and slightly cloudy due to the natural vinification, this Chardonnay offers intense aromas of banana, apple and pear blended with toasted brioche. The full-bodied, rich and creamy palate is balanced by a refreshing and fruity finish.
A natural wine. Full bodied, rich & creamy with refreshing acidity on the finish, this wine is made by Viña Echeverria.
vegan, Chile, 13%