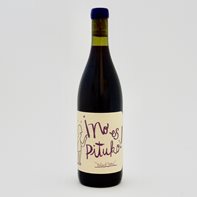 Echeverria Carignan Ino Es Pituko
Viña Echeverría combines nearly a century of viticulture and winemaking experience with a modern state-of-the- art winery, to produce an extensive collection of quality wines. The 'No es Pituko' range represents a radical departure from the rest of the more traditional Echeverría wines, both in look and make-up, being vinified naturally, without any additions at any stage.
A naturally made, fruity wine with expressive notes of rich plum and ripe black fruits accompanied by subtle spicy notes of cinnamon, and a touch of star anise. Lovely fresh palate with fine tannins and subtle earthy tones.
This is a natural wine with no additions at any stage.
vegan, Chile, 13.5%