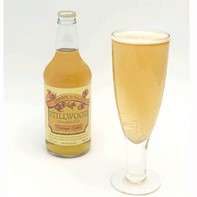 Green Valley Stillwood
Green Valley use only from devon apples free from chemical sprays and artificial fertilizers. Their Stillwood Cyder (the 'y' is important!) is medium dry, full bodied and satisfyingly strong at 8.3%.
Uses apples from a single orchard - so for example the 2009 vintage used apples from the bidgood orchard in Woodbury Salterton.
Clyst St Mary, Devon.