Hillside Pear, Apple & Herb Chutney
This subtle chutney is designed to go with more delicately flavoured cheeses - some soft ones, for example - so that it doesn't overpower them. It's creator, Hillside's Jay Allan says: "I feel that some flavours are best kept simple and clean so haven't messed around with lots of ingredients. The pear is naturally sweet and the cooking apple tart so this adds a nice balance to the chutney; a sprinkling of fresh thyme and rosemary give it a lovely aromatic finish".
Sometimes people don't want the cheese's flavour killed by a strong chutney, in which case this could be the perfect partner.
200g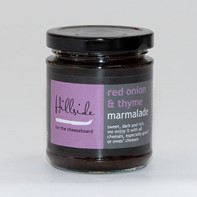 Red Onion & Thyme Marmalade
tell me more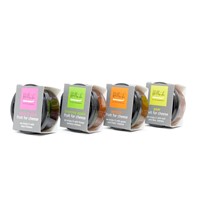 Hillside's Fruits for Cheese
tell me more
Hillside
The story of Hillside Speciality Foods began when Devon Chef Jay Allan created a range of fruit pastes for a local cheese supplier. They were looking for a local fruit complement to serve as an alternative to the imported Spanish Dulce de membrillo (quince fruit cheese). Drawing on his fifteen years of experience as a Chef, and with reference to the long tradition of British fruit cheese making, Jay developed a range of fruit pastes to meet this
need. Jay teamed up with brother Will and Hillside Speciality Foods was created.
New ideas were added along the way, including relishes, pickles, chutneys and savoury biscuits. They now specialise in producing this range of complementary products which are terrific for the cheeseboard. Jay and Will are based in Exeter.