Gilbert & Swayne Classic Chocolates
Gilbert & Swayne was created by Jane Swayne in 2013 and is based in a converted barn overlooking Glastonbury Tor, in the village of Baltonsborough, Somerset. After an initial course at Meneer Chocola in the Hague, Jane completed her training with World Master chocolatier Ruth Hinks of Cocoa Black.
This selection contains nine handmade dairy-free chocolates with organic coconut oil, fresh herbs, spices & fresh fruit purees. Note: No dairy products are used in the creation of these chocolates but they are made in the same workshop as our regular range so may contain traces. They are therefore not suitable for people with severe dairy intolerance.
Minimum weight 110g
For full details of the ingedients used, click the 'about' tab below.
NOTE: the decorative papers used for boxes vary!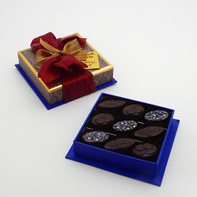 Gilbert & Swayne Somerset Cider Brandy Collection
tell me more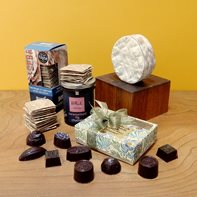 The Cheese & Chocolate Box
tell me more
Gilbert & Swayne
Key ingredients:
The morello cherries, Apple Eau de Vie & Cider Brandy are all produced by the Somerset Cider Brandy Company. Coffee beans are sourced & roasted by Reads Coffee, based in Sherborne. When in season the herbs are harvested from Jane's garden. All the chocolate used is either certified Fair Trade (Classic Collection) or single origin organic (Brompton and Somerset Cider Brandy Collections).
Jane says: 'It's really important to us that we only use chocolate sourced from plantations where the employees receive a living wage and have decent working conditions'.
Full ingredient list:
Single origin organic chocolate (63%) from the Montecristi Estate, Equador (used for dark chocolate shells): organic & FairTrade Arriba cacao beans; organic sugar; GMO free soy lecithin. FairTrade chocolate (used in ganaches) a blend from various
certified FT estates, cocoa mass (dark 55%, milk 34%, white 28%), cocoa butter, emulsifier, soya lecithin, natural vanilla, Fresh cream (MILK*); fresh basil, bay, lemongrass, mint, rosemary, tarragon & thyme; stem & root ginger; cinnamon ; Somerset honey; pure blackcurrant, lemon, morello cherry** , passionfruit, raspberry & strawberry purées; fresh orange, lime & lemon zest; ground coffee beans; morello cherries**; Somerset Cider Brandy**, Apple Eau de Vie**, Cointreau, Limoncello, Marc de Champagne,Grand Marnier, Armagnac, raspberry, rose & passionfruit liqueurs; Earl Grey tea; prunes d'Agen;Somerset Membrillo***; natural rose, lime & bergamot oils, fresh chilli; cumin & cardamom seeds; juniper & allspice, berries; almonds, hazelnuts & walnuts (NUTS*); sea salt
Gluten free
*ALLERGENS
** produced by the Somerset Cider Brandy Company
***from the Somerset Membrillo Company