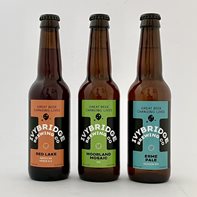 Ivybridge Brewing Company
Founded in 2018, Ivybridge Brewing Copmany is a social enterprise that provides paid work and training opportunities for people with learning disabilities. Simon Rundle left his job as a Plymouth University academic to set it up. The brewery now has its own taproom and shop in Ivybridge - just on the very southern egde of Dartmoor - and currently a range of four beers.
Erme Pale. A light and citrusy Session Pale Ale, made with Citra and Azacca hops. This is IBC's best selling beer and it is named after the River Erme, which flows just next to the brewery. 4%
Red Lake. An American Amber Ale, Red Lake combines the classic maltiness of an English ale, with orange fruit flavours from Amarillo hops. It tastes equally good served chilled or at room temperature. 4%
Moorland Mosaic. An India Pale Ale (IPA) brewed with Mosaic hops, which provide the perfect balance of a subtle bitterness with stone fruit flavours. The addition of flaked oats add body and mouth feel. 5%
All bottles are 330cl.