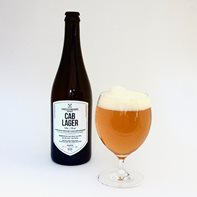 CAB Lager
Made by the Crossed Anchors brewery in Exmouth, Devon.
The brewery's Olly Bainbridge says: "one of our best selling beers, this lager is a cracker. Brewed from Deon malt and English hops it is clean, crisp and easy drinking - a proper thirst quencher!"
Note: this is in a large, 750ml bottle!
750g, 4%