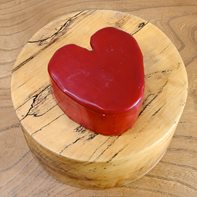 Hot Stuff
Hot Stuff is a sweet, mellow cheese with just enough locally-grown chilli added to give it a bit of zing!
It's made by Rachel Stephens, who 'is' Curworthy Cheese. This dairy, based near Jacobstowe, north Devon, was one of the great artisan cheese pioneers, and Rachel has been there for quite a bit over 20 years. Rachel has only just started making this in its heart-shaped version and we'd be very suprised if you found this elsewhere - so it's a pretty special gift.
Pasteurised, not vegetarian, about 300g
Curworthy
Rachel Stephens' dairy is at Stockbeare Farm, near Jacobstowe in North Devon. She's been there for 19 years, refining a small family of cheeses all based on her first, Curworthy. But she didn't start at Stockbeare: back in the 80s the magazine Farmers Weekly owned the nearby Curworthy Farm, which they used as a way of generating content for the magazine. To add extra interest for their readers, they began to make cheese - using a recipe based on Gouda - with Rachel helping out. In due course she took over as cheesemaker, eventually buying the equipment and moving it to her own farm, where she still is today.
Makers' approaches are interestingly different. In Rachel's case, she's built outwards from the original, very succesful cheese. So at six weeks the cheese is sold in a black wax as Curworthy, but there's also Devon Oke,
which is a six-month matured version with a rind. Flavoured with spring onions it becomes Chipple, and yellow-waxed Meldon features ale and mustard. Latest addition Devon Smoake rather speaks for itself! But they all start with the tried-and-tested Curworthy recipe. This uses what's called the 'washed curd' process, where water is used to wash the whey out of the curd, lowering the acidity and making for a sweeter cheese.
One of the true artisan cheese pioneers, the Westcountry had just a handful of makers when Rachel started. She's seen the huge growth in interest from a public looking for quality and authenticity in their food, and lots more makers entering the field; good developments like farmers' markets (which she enjoys - getting direct feedback from her customers) and less welcome ones like the reams of paperwork which now, sadly, go with the job.