A Modest Sheep & Goat Hamper
Washbourne won 'Best Modern British Cheese' at this year's British Cheese Awards - and we decided to celebrate this wonderful Devon sheeps' milk cheese by making it the centrepiece of a hamper. Around it we've added a complementary trio of Harbourne Blue (goat), Melbury (sheep) and one of the various versions of Vulscombe (soft goat). All in all, a quartet of beautifully different cheeses, and no cows' milk in sight!
To facilitate instant munching, one box of Peter's Yard crispbreads (the ones with the hole) and a jar of Hillside's Spiced Orchard Fruits chutney is included.
Contains about 880g cheese.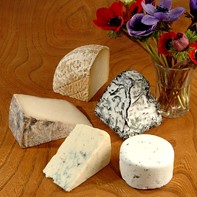 The Sheep & The Goats
tell me more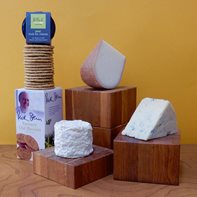 Two Sheep & A Goat (Or Vice Versa)
tell me more