The Cheese Of Somerset
---
Somerset has the great heritage of cheddar behind it and, today, a thriving community of makers producing every type of cheese you can think of! For this box we use our knowledge of the field to present two contrasting firm cows' cheeses (including - of course - a cheddar) a blue, a goat and a soft. We'll make sure there's real contrast across the five. Two sizes are avalable, the smaller has at least 1kg of cheese, the larger at least 1.5kg.
Your cheese will come wrapped in waxed cheese paper, with a note giving information about the selection, and a card if you've asked for one (we'll ask for your message during checkout).
vegetarian
Would you like us to select all vegetarian cheeses, i.e with no rennet used? Just choose that option from the menu above.
hamper option
Tick the box above and we'll pack your cheese in a smart 14" wicker hamper with black leather handle & hinges. The hamper's roomy enough to take chutney, biscuits, beer or other 'add-ons' as well as the cheese.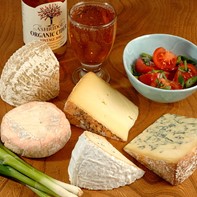 The Cheese Shed Selection
tell me more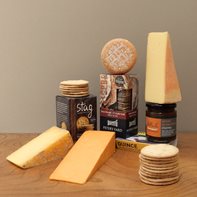 Fields Of Gold
tell me more