The Mild Bunch: Hamper Competition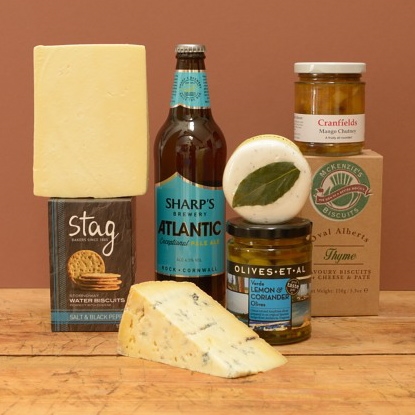 We've totally revitalised our hamper page by adding eleven (!) new collections of cheese with carefully chosen accompaniments.
To celebrate, we're giving away one of these - 'The Mild Bunch' - a collection which based around three lovely mellow cheeses - Duckett's Caerphilly, Cornish Blue and Vulscombe. These are teamed up with two contrasting boxes of biscuits - Oval Alberts and Stags Water Biscuits. Also included: Cranfields chutney, lemon & coriander flavoured olives, and a bottle of Atlantic Pale Ale.
To enter, just answer this question:
Q: What colour is the label on Sharp's Atlantic Ale?
A clue can be found by reading the text on The Mild Bunch's page, which you'll find with our hampers here.
Then email me with your answer, putting 'Mild Bunch' in the subject line.
Winner: David from Biggin Hill