your basket
win a valentine's day cheese box!
win a Valentine's Day cheese box!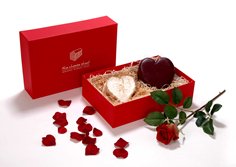 Your chance to win one of our Valentine's day cheese boxes, containing a tangy red-waxed Godminster Cheddar paired with a real melt-in-your-mouth, sweet, crumbly goats' cheese, White Heart: made by the brilliant Pete Humphries of Whitelake Dairy. Your two heart-shaped cheeses will come in our gorgeous posh box. What better way to your loved one's heart than via cheese? And heart-shaped cheese at that? You know it's the truth.
To enter, just email me before the end of Sunday 5th February with your answer to the question:
What cheese is very similar to the White Heart used in this box?
Hint: If you read the Valentine's Day box page, here, you might find the answer.
The winner:
... is Marie from Lincoln, contacted on 6 February. Congratulations!